Jamming into Summer With PRiMO Pairings
After jamming away on major wine exams this year, I'm excited to catch up on some reading, writing and a whole lot of sipping for fun. For the next several weeks, let it be said, let it be done: Val isn't trying to analyze and write tasting notes on every wine that passes her lips. Is this ever liberating!
So when PRiMO Specialty Foods contacted me and asked me to do a piece on wine paired with some of their preserves I couldn't resist. First of all, these preserves are no stranger to my fridge. Secondly, and more ironically, I was first introduced to these treats at numerous wine tastings five years ago. And finally, this is a local (Colorado-based) company and we do love to support each other when we can. It's Summer, it's entertaining season, and I cannot think of a better time to start jamming on some sweet and heat. Literally.
These jewels, they come in heart- and tongue-warming combinations such as Raspberry Habanero and Blackberry Serrano. The new flavors caught my attention and PRiMO sent me the Berry Pasilla and Strawberry Ancho. I couldn't wait to dig in, as summer fruits are the main ingredients of these two flavors. Something else you may not realize about these preserves as they are not normally hanging out in the jellies and jams section of the grocery store. At our local Whole Foods, for example, these are prominently displayed near the killer cheese counter. (Shout our to our cheese guy, Gig. Who loves ya? Val does, that's who!) A third perk to these jams is that Chef Vic, creator of the product, has taken the time to put his excellent cheese pairing recommendations right on the lid of each jar.
This is where Val comes in. Of course I'm not sitting here spooning Berry Pasilla preserves into my mouth and chasing it with wine. Oh yes I am. In front of me is an arsenal of cheeses and a few wines that I've narrowed down that almost anyone can get a hold of and enjoy while putting together your summer spread. Get it? Spread?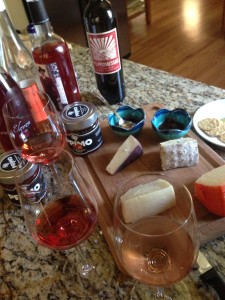 Pairings
In selecting wines I tried to stay within these genres:
Wines that were generally lower in alcohol, as higher alcohol can add to any perceived burn. Although the heat is pretty mild in these preserves … compared to outside … which leads me to…
Wines that may be more enjoyable with a little chill – in addition to a little chile – are ideal for Summer, yes?
Another thing I looked for in the wines was a lower level of tannins. Tannins are found in the grape skins, seeds and stems and give wine that astringent feeling in the mouth. I liken a large amount of tannins in wine to a sensation most people, oddly, understand: licking sandpaper. Of course this sensation is often mitigated through salt in the food. Tannins, like higher levels of alcohol, can also aggravate a chemesthesis sensation from chile heat (make the burn feel more intense).
Overall I chose light-bodied wines (think skim milk as opposed to heavy cream with respect to the weight of the wine in your mouth) for these preserves.
Fruit-forward, more bright berry or summer fruit flavors and less earthy (easy on the tobacco and leather flavors) worked quite well.
Finally, go easy on the oak to stay with the fresh, summer, simple and light theme.
I had a little help also from my Wine Two Five podcast partner, also a Certified Wine Educator and Certified Sommelier, Stephanie Davis. We took on the project together in a recent episode of Summer Wine and Jam Session that the PRiMO folks had some fun with as well.
Here are my recommendations with which you can mix, match and play. I give recommendations – plural – because I do not believe in the "one wine fits all" taste methodology . Tastes and pairings are, truly, subjective. We all have different palates, so I prefer to give a range of wines for you to try – after all, this is how grownups play with our food. Get out two or three wineglasses per person, some cheeses, crackers, sausages or whatever vehicle you like, a couple of these jars and get your summer jam on!
Strawberry Ancho
Strawberry Ancho has a smokiness to it that is accessorized by floral notes. It is pronounced in aromatic and flavor intensity attributed by the ancho, which Chef Vic tells me belongs to the rose family. He also added some habanero which brings a little tropical and spicy quality to the experience. The heat is quite low, but because the flavor is more intense we were able to kick up the cheese intensity a notch to some goat and sheep, such as Mahon, Comte, and Drunken Goat.
My favorite combos for the Strawberry Ancho:
Wine: Montecastrillo, Rosé Ribera del Duero, Spain (100% Tempranillo) by Finca Torremilanos.
Served with: Multigrain rice cracker topped with low sodium turkey breast, Mahon cheese, Strawberry Ancho preserves.
Wine: Honoro Vera Rosé (Rossado) from Jumilla, Spain.  It is a blend of Tempranillo and Syrah at about 12.5% alcohol. This is another $10 beauty that is going down way too easy, chilled, and loaded with red berry fruits.
Served with: Multigrain rice cracker topped with low sodium turkey breast, Naked Goat cheese, Strawberry Ancho preserves.
Berry Pasilla
The Berry Pasilla blew me away, but again, not in terms of heat. Pasilla is one of my favorite peppers inspired by a trip to Spain (and many episodes of Bobby Flay cooking shows). Of course there's some sweetness not just from the blackberries and raspberries, but also from the pasilla peppers and a little zing from the touch of habanero. This one had more of a kick from the fruit acids and intensely pronounced flavor, so I took the wine up a notch as well. The cheeses we chose are: Cambozola, Manchego, and Drunken Goat.
My favorite combos for the Berry Pasilla:
Wine: Row Eleven Rosé, Napa California. This is a red blend that is quite a crowd-pleaser with its dark summer cherry and berry flavors and less than 13% alcohol. It's also under $20.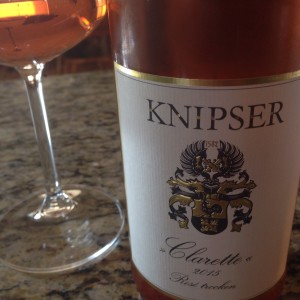 Served with: Multigrain Rice Cracker topped with low sodium turkey breast, Drunken Goat cheese, Berry Pasilla preserves.
Wine: Knipser Trocken Rosé Clarette, Pfalz, Germany.
Served with: Multigrain Rice Cracker topped with low sodium turkey breast, Cambozola cheese, Berry Pasilla preserves.
Another treat that Vic has for you is a recipe that is simple, interesting, and will crank up your summer party jam (and entertaining guru status) to a new level of hot. The recipe links, along with all of Steph's recommendations, can be found in our show notes for Episode 67.
For any of these summer berry and pepper preserve combos, we recommend wines like the following:
Whites:
General: light bodied, fruity, off-dry or even sweet.
Gewurztraminer
Riesling
California Sauvignon Blanc
Vouvray
Alsace or Oregon Pinot Gris
Fizz is fine:
Sparkling Vouvray
Cremant de Limoux
Clairette de Die
Moscato D'Asti
Asti DOCG
Rosé: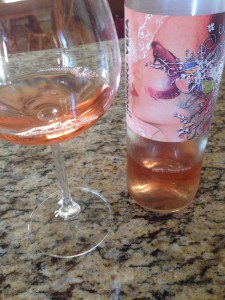 General: Put a chill on your pink wine.
New World examples, inexpensive (under $20), refreshing, and mirror or compliment the berry flavors of the preserves:
Cherub rosé by Montes, Argentina
Row Eleven rosé, California
A past-life favorite off-dry summer sipper from the very beginning of my wine journey 16 years ago, V. Sattui's Gamay Rouge. 
Spanish rosado like the Honoro Vera or the Montecastrillo mentioned above (around $10, depending on your market)
Fizz is fine:
For a sparkling rosé option try a Bugey from the Savoie region in France. Low alcohol, inexpensive, festive and fun. The rosé is at least 50% Gamay by law.
Cava rosé' (we liked the Juvé & Camps which is 100% Pinot Noir)
Red:
General: Light-bodied, bright berry and cherry fruity, simple, no serious oak or tannins, and with a chill.
Fizz is fine:
This is not all-inclusive, mind you. However, with some general guidelines for summer wine shopping you can beat the heat with some cool, creative combinations. Bottom line: taste, experiment and enjoy something new like these jamming good preserves … with wine, of course.