While writing a post for PostcardZ from Victoria's Wine Trails and Tails I dug up some photos and memories from two separate trips I'd made to the Maremma in Italy. This is the "wild" area of Tuscany that is not often written about, but I was enamored with the fact it wasn't creeping with touristy kitsch.
During my time living in Florence I took every opportunity to get out of the city. Often it was to walk in the hills above to escape street noise, crowds, and everyday bustle. Other times it was to experience other flavors. As wine scholars we often find ourselves saying, "Wine doesn't come in two flavors, red and white." Well, Italy cannot be summed up by a plate of pasta and a fiasco-covered wine bottle on a red and white checkered table cloth. Every region, much of it I've yet to see, is different in terms of cuisine, dialect, culture and, of course, wine. To explore outside the main tourist-overrun cities, spend time in a distant place, taste, listen, watch, and feel is, to me, where we tap into the magic of a place. It's why we travel.
One early October day I made my way to Siena to meet up with a friend. He'd hired a driver to whisk us off to parts of Tuscany I'd mostly read about. I'd only written about and tasted wines from the Maremma, including the sangiovese-based Morellino di Scansano. But to spend the day winding through narrow roads and hillside towns was the stuff of off-the-beaten-path bliss.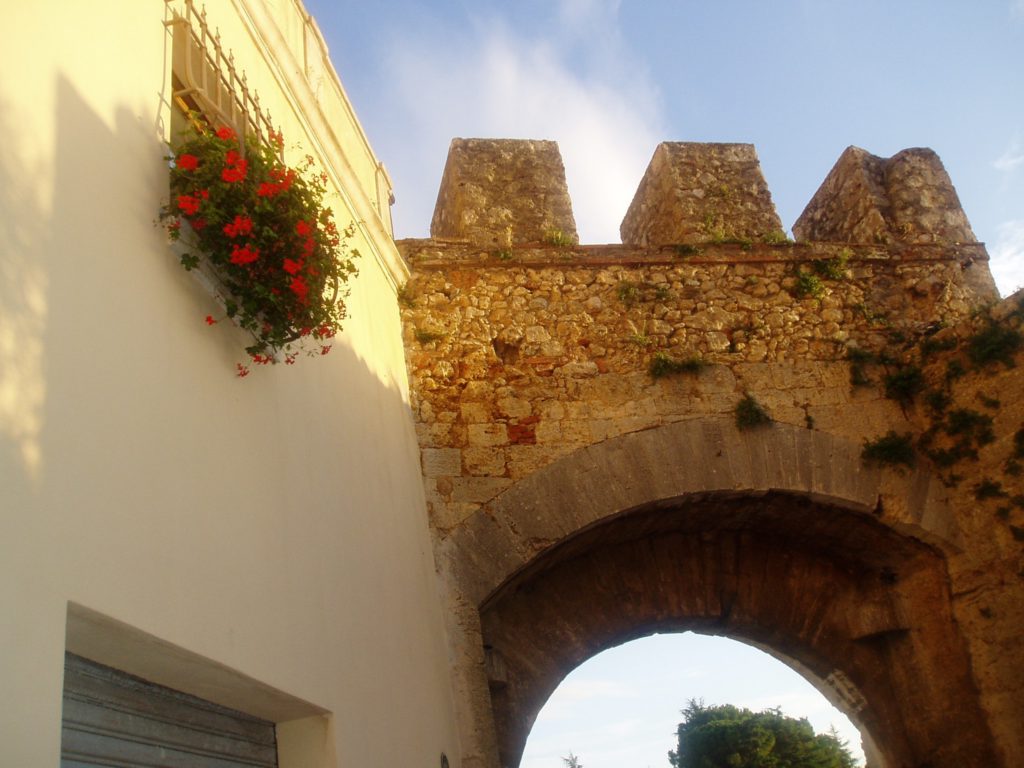 My only other trip out this way was back in May. We visited Cinigiano, snuggled between Montalcino, Monte Amiato, and the hill city of Monticello. At Campi Nuovi I barrel-tasted my first biodynamic, spontaneously fermented 2007 Montecucco DOC Riserva (Montecucco has since gained DOCG status). At about 1400 feet above sea level I stood among the vines, gazing westward toward the sea, face into the wind. I vowed to return to the Maremma.
That perfect Tuscan spring day was emblazoned in my mind as we rolled out of Siena. I was determined to feel that quiet rush again from another idyllic vineyard. However, the low-hanging clouds and cold drizzle threatened the movie I'd made in my head, and we strained to see villages hidden by low fog. The good news? Our first stop was Ampeleia, a winery where we'd reserved a tour and tasting.
About 30 miles inland from the Tyrrhenian Sea, Ampeleia's vineyards ar, spread amongst three distinct altitudes and terroir. More good news – we were the only ones there! We hopped into a truck and four-wheeled to the cabernet franc and merlot vines of the Ampeleia di Sopra, their highest vineyards with a stunning view of the massi (rocky outcrops) of Roccatederighi. We love Ampeleia for their use of Mediterranean grapes, but they still honor the Tuscan sangiovese, which also grows in their Ampeleia di Mezzo vineyards. Closest to the sea are the Ampeleia di Sotto plots where Grenache and other Mediterranean varieties thrive. We also loved that by the time we got to the vertical tasting Simona, their lovely sales director, had arranged the blue returned to the autumn Tuscan sky.
We stocked up on favorite wines before ascending to Roccatederighi, a nearly desolate town carved into rocks. Not only was it not crawling with tourists, there was no one around but the three of us, a few kids in the churchyard, and a dog.  The views are some of the most spectacular one could experience in the Maremma. We caught a glint off the sea and a glimpse of the island of Elba in the distance. I sat on a rocky ledge seemingly in the middle of nowhere with the sun on my shoulders and, once again, face into the wind.
A brief stop in Massa Marittima for a light snack and another glass of wine (we had a driver, remember?) was the cherry on the cake of a perfect day. The sun set behind us as we trounced back through the Tuscan back roads, vowing, again to return to the Maremma.
The original posts from Living Out Of The Box can be found in the 2010 archives as White Nights and Black Coffee and Breakfast Up the Street From Tiffany's.