In April of 2015 Val and fellow wine educator Steph launched Wine Two Five: everyday drinking for everyday people!  Wine-Two-Five is an entertaining wine podcast series featuring wine educators who like to drink their homework & have fun learning.  Steph & Val believe in wine with lunch and not punching a clock when pulling a cork. In other words, drinking every day – any time of the day – is acceptable.  And classy.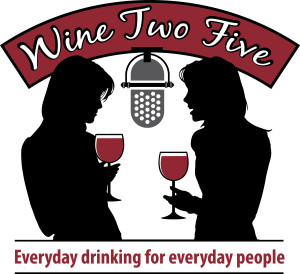 Why Wine Two Five?
Wine Two Five is more than just a play on words that may or may not insinuate we drink from 9 a.m. to 5 p.m.  Despite the fact that some of our friends may believe we do just that, we truly do not.  However, we both believe strongly in the following:
1) Wine with lunch? Yes, please.  We do not see a problem with it, and encourage it (in moderation, of course).
2) That whole "Five o'clock somewhere" thing is hooey.  We do not believe that a clock should determine when we pull a cork.  We are all big girls and boys and if we're having Tapas for lunch at 11 a.m. and there's Sherry nearby?  Yes, please.  A glass of Chardonnay with chicken salad at noon?  Don't mind if we do.
Do we believe in getting tanked at lunch and then returning to work in an attempt to be productive?  Absolutely not!  Again, moderation and discerning your situation for imbibing during the day is incumbent on you, but again, not the clock itself.
Additionally, Val & Steph live at either end of Interstate 25 in Colorado.  In order to get together to study, taste or collaborate in person there is about a 2.5-hour drive involved for one or the other.  Hence, Wine Two Five was born.  We affectionately shorten it to W25 or #W25.
Our Mission Statement
Our mission is primarily to entertain our listeners, but also to educate and even empower the consumer with fun and useful information about wine, wine tasting, wine buying, or wine culture.  The world of wine can sometimes be perceived as snobby and intimidating, so we want to help answer those burning wine questions, misconceptions or make sense of current topics.  We strive to take the often touted "rules" and help turn them into "tools" the listener can use to further enhance their enjoyment of wine.
Our Vision
Our vision is to provide listeners with a resource for getting facts and having fun with wine.  We aim to help you get out of wine ruts, finding new favorites or entertaining options, highlight products, or spotlight special events or venues across the country, to include educational opportunities, books, or videos.  Most importantly, our vision is that every time you pour a glass and hear that jazzy intro & silky "It's not 5 o'clock … and they don't care!" you smile, relax and sip your way to a better wine tomorrow.
Where can you get your weekly dose of Wine Two Five love?
Subscribe. There are several ways to do this:
RSS: Subscribe to our feed which will load into your podcast catcher each week.
ITunes:  Yes, we are on iTunes, so you can just go there and click subscribe and it will load automatically into your iTunes app.
We are also excited to announce Wine Two Five is on iHeartRadio!
Stitcher: Android users, you are in luck. There is a free podcast catcher available for download and you can also subscribe and find us at http://www.stitcher.com/podcast/wine-two-five.
Player FM: Friendly and attractive format for all podcasting needs. Check us out here https://player.fm/series/wine-two-five-podcast
All show notes and share buttons (remember, we like to share the love!) are located here at http://winetwofive.libsyn.com/
Latest episodes:

However you choose to enjoy your weekly dose of Wine Two Five, we hope you have glass of something lovely nearby.
Cheers ~
Val & Steph