Wine Education is an Ongoing Process
Valerie (Val) is a lifelong student of wine and believes you never stop learning. The wine industry is dynamic and ever-changing, and she prides herself on sharing her knowledge and experience with anyone who wants to take their enjoyment of wine to the next level. She is credentialed through the Society of Wine Educators (SWE) as a Certified Wine Educator (CWE). Currently there are 422 CWEs in the world.
In 2015 she earned the French Wine Scholar (FWS) credential with highe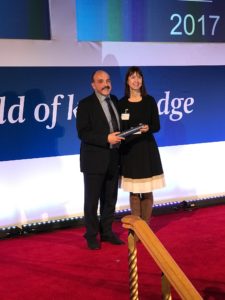 st honors, and completed the Champagne Master-Level certificate with honors through the French Wine Society/Wine Scholar Guild.
However, it was the the completion of all six units of the WSET Level 4 Diploma in Wines and Spirits in 2016 which Val believes is an accomplishment that not only brought together all of her wine and spirits studies and experiences – but was incredibly humbling. This is also where she felt her discipline from 25 years in the military and tenaciousness (or stubbornness) have served her well, as she completed the three-year program in under two years. The Diploma in Wines and Spirits (DWS/DipWSET) is a requirement for application to the Institute of Masters of Wine, a dream Val has been wanting to pursue for quite a few years, and hopes to apply to the program.
Beyond the Books
Val also serves on the Board of Directors for the the Society of Wine Educators, an organization about which she is truly passionate. She is a frequent presenter in the SWEbinar series and Certification Summits that offer online webinars for those wishing to learn, seek credentials, and interact with other SWE members.
To augment her enthusiasm for teaching, learning, writing and presenting about wine she launched the Wine Two Five wine education podcast in 2015 with fellow CWE Stephanie Davis. This rapidly growing entertaining series on iTunes and iHeartRadio is as much fun as it is informative, and has featured superstars in the wine trade such as Master Sommeliers, Masters of Wine, producers, award-winning authors, wine critics, educators and other industry personalities. She is the executive producer, co-host along with Stephanie, and writes the web content, show notes and blog.
Living the Wine
Val's experiences living and studying professional wine and language programs at International Culinary Academies in Tuscany (2009 – 2010), and France (2010), have changed the way she "lives her wine." Through these memorable moments (and some silly stories) her professional wine tastings are truly unique experiences. While she believes one can never know "everything" about wine, and doesn't prefer the term "expert," she does offer an elevated experience that is unparalleled in Colorado Springs.
Yet, she believes it's still a journey – and a delicious one, and invites you along for a little Vino With Val.
Salute/Sante'/Cheers ~
{To read more of these exploits and frequent occasional silliness , visit her personal blog, Living out of the Box}